(UNDER CONSTRUCTION2010)Meh chat kat sini...korang nak tanya aper2 pun boleh...akan cuba di jawab..InsyaAllah..(UNDER CONSTRUCTION2010)
Currently Favorite Music Video
m.a.s.a. s.p.o.n.s.o.r. p.e.s.a.n.a.n.
Add Me At....
Bloggers "Family Affairs"
Bloggers "Kenalan kolej"..
Bloggers "TABIK HORMAT"
Bloggers "AkmaFC & Jiwangans"..
Bloggers "Nubies"
Tertinggal Komuter??!?!
Tertinggal ERL????
100 posts....and still counting....
Wednesday, March 21, 2007
hi....this would be my 100th post and 3rd for this week.....tak sangka ooo...

apa2pun..smlam besday mama......Happy besday....erm.....smlm gak smpt cakp ngan Naz....ok laaa....xde yg menarik...

my frenz back in UiTM was expecting me to come there...tapi tak tau laa biler...asik bz je...nk dtg minggu ni...mcm payah plak..tapi akan ku cuba nnt...

yesterday....mmg bengang giler...di tambah ngan sakit tekak serta badan....aduhhhh....cuma tuhan je tau betapa sakitnyer hati biler tgk /dengar sumthing....isk3x......sabo je laaaaa

Hotlink send me wit Sel-Destruct SMS (SD-SMS) kinda cool tho.....so i try to one of my fren.. i told her the nastiest joke i can imagine...guess what?!? she can save it...kuang3x.....SUKERNYE AKU!!!!!


ok laaa...got to chow...i hv appointment wit my fren 5mins from now...

SEE YA!!!


-out-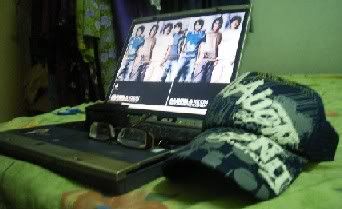 -maxx-
hasil muntahan pikiran maxx @ 10:18 AM

Pening...gaban pun tak leh urut.....
Tuesday, March 20, 2007
Hi peepz...

as i promised u guyz b4....ari ni nk citer sket apa jd waktu b4, within and after the party...

sy bertolak dr rumah pukul 3.45..dimana janji utk berjumpa ngan para AFC adalah pd pukul 4pm....mmg tak sampai waktu itu..but..as long as i'm there..OK aper....

lepas membuat perbincangan ngan pihak berkuasa..serta partner-in-crime...akhirnya kami mendapat persetujuan yg tiada pertumpahan darah serta air mata..wakaka.....pertemuan ngan para AFCers n Jiwangans mmg mengusik jiwa sebab rasa2 dh lama kitorg tak jumpa....

To cut long story short....majlis di teruskan ngan kata2 aluan...NEway, kitorg dh banyak lari dr estimate time sbb minah tu lewat sampai...DIMAAFkan....haha....lagipun jejaka pojaan *tuuut* *tuuut* kan ader...hahahha....So sebagai MC...sy try ler buat yg TERbaik...tapi.....BAIK ker...YOU GUYZ decide yaaa.....

Ni antara pix2 yg ada....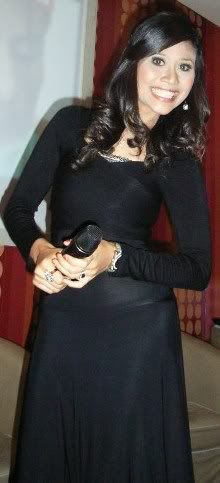 Dentist worst nightmare.....pearly-white Teeth!!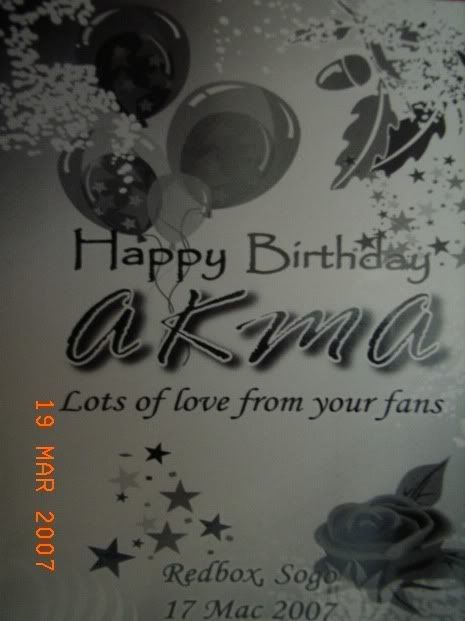 Card at the registration....
pix been given by the photographer...maybe this would be the Album's cover??? Who knows.....
Last pix b4 all of us BLAH.....
setelah majlis berakhir..ader sesi foto dgn pihak yg telah di appoint oleh
AFC
....kinda cool.....erm...for sum of us...(by the way..it's me actually), pi melalak kat dlm room...sebab boring tahap gaban....namun nyanyianku itu tak mendapat tepukan hangat...sebab tak sedap..maybe katak2 kat luar lebih memahami....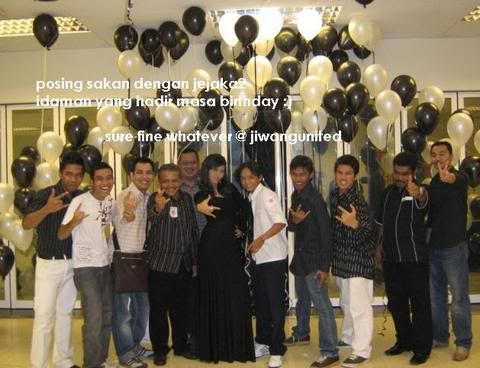 Akma di kelilingi oleh kumbang2 (except for 6 guyz yg oredi been taken) yang lain tu masih ader peluang....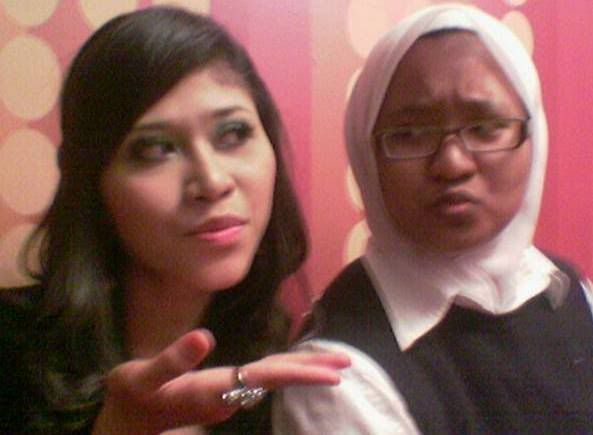 Not so last pix of us....what wrong wit her give the flying kiss where i'm looking at her
strangely?!?!
sampai di rumah....semua dah tido....So i took the oppurtunity..to online 4 a while....namun...sumthing really trigger me....for those who knew it...simpan2 je la...for those who dont...erm...dun ask....but it really making me annoying...to who?!?! you know who you are...i dun want to "reveal" you....how kind am I....
On Sunday..my day start perfectly until my papa start barking...dunno why...but all of us (my mom n my siblings) amik keputusan utk tak buat papa marah lagi...dah cukup bagus laa dier tak bingit lagi...kang ader plak ke PANG...baru tau....
semalam...janji nk jumpa ngan Nurul...namun tak jadi due to ketidak-siapan barang yg di minta....so i planned to meet her later.....so me wit my lovely
pet-sis
pi buat rondaan di sekitar Seri Kembangan.....nak jadi cerita..kitorg terjumpa ngan sorg mamat ni...so i nk jadi match maker utk dier....god knows how loud she scream at me....hahhaha
that's the end.......thanx 4 ur time....
-out-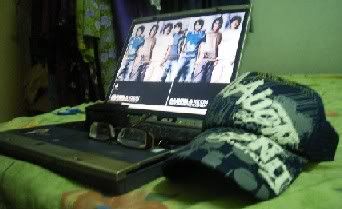 -maxx-
hasil muntahan pikiran maxx @ 4:46 PM

Si penat menulis.........
Sunday, March 18, 2007
Hi all....

di kala posting ni di tulis...sy baru pulang dr Red Box Ria, Sogo KL....sy di minta menjadi MC utk majlis hari Jadi minah tu yg ke 22....muda lagi ghopenye ko yer...hahahhaha...

NEway....bagaiman sy di minta jd MC tu agak mudah...cuma sy je yg tak caya ngan kemampuan sendiri....Pada semua yg memberi dorongan dan sokongan...THANX a lot!!!!

Team-up ngan Eddie kira OK gak..walaupun mcm segan laa ngan Eddie..but bila dah cakap2 n mingle ngan dier...cam ader keserasian...

Sebnarnye, ader byk acara yg xdpt di lakukan due to tak cukup masa..so kita buat je laaa mana yg mampu....At the End..sumer pihak puas ati.....AMMMEEEEN

b4 balik pun...sy telah berjaya membuatkan semua katak kegembiraan apa sedara xsama taraf ni mensumbangkan lagu The Reason, My Heart, dan lain2 lagu yg telah lupa tajuknya....

tapi masa nk pi ngan nk balik..ader je bende NAK berlaku....org kuang ajo pun ada....org yg tengah2 malam pi joging pun ada...dan sebagainyer....WA BUAT TAK KISAH JE!

sampai umah terus on9..di sebabkan xde gambar...jadi sy minta jasa baik meka2 yg ader amik gambar tu utk sedekah2 laaa pd saya..hehehe....

BTW...ader org yg tido x basuh tangan dan ader gak laaayg tido dgn senyuman...YOU KNOW WHO YOU ARE!!!!

OK LAAAA...mata dh kuyu giler....klu ader gambar..akan ku post kan di posting seterusnya...


bye ALL...

-simply ME-
hasil muntahan pikiran maxx @ 2:28 AM

cerita cepat....................haha
Friday, March 16, 2007
Aloo all my peeps....

It's been long time since I update my blog.....well....what can I say my last 4 weeks was so-so….not so good…but not suck either…..

Having 2 of my

lovely darlings

together in Malaysia….one having concert in Genting Highland and another one in Bukit Jalil...really tear my hart apart…Thanx to Mel, I have my "abang's poster" on my room..hehhe…

Btw….rite now, I'm addicted to DDR…for those who didn't know…it's a dance machine which we can find it in arcade…hahahaha…trust me….u can slim up if u play none stop for 4 tokens..Thanx to Cinderella n Hubby cuz introduced this game to me...so every time I went to Summit...beside DDR, I played Taiko, Daytona and House of the dead 4…Speaking of that game, last Monday, I went to Mines as my dad wanna search sum thing for my mom's present….as for me n HD, we went to search some entertainments as for us who earn RM200 a month wouldn't have a heart to look (or dun dare to dream to have) that kind of things…So me n bro played sum games, such as Taiko (as usual) and air hockey…… we also saw this guy played House of the dead 4…he finished all the level…waaaa….so amazed….

Watching Mukhsin was the best moment of my life…a much awaited movie of my calendar….some more, I watch it after my exam finish….mampus laa if my parent noe….I dun wanna tell you what it is all about...but what can I assured you…you'll be leaving the cinema wit 1001 questions in your head. I'm sure Mr. Zul "Joe" MZ won't watch it…seriously…..as for those who wanna watch it…please keep your mind open...as the story are not the same as the last two of Yasmin Ahmad's movies….a scene that really tickle me off when the pembantu of Mak inom n pak atan was saying… "Kau ni Kuning...mencemar Budaya betul…." Kuang3x… I wonder from where that statement come…LOL…..A scene where mak inom give a "lesson" to Orked also tickle me….the boy's family who were too busybody…and didn't wanna accept the fact that their son was the troublemaker…went back with so much guilty without they knowing..That just a prank that been done by Maki nom and Orked…..I was LOL when I saw Mak Inom and kak yam Laughing...hahahhaa…

4 days of not going to college really making my butt too "berat" to go to college…but I have to accept that my parent was trying their best for me, my sis n bro's education…so I just go and let my heart accept whatever it will…my life in college was OK…until some stooopidooo-head taxi driver near my house area was scolding me…I gave him RM5…..he ask for RM6…as I wanna give him another RM1…he said… "Tak payah2…buat apa bagi…." Kinda like that…I was cursing all my heart….thank god…after that night...i never saw him again….but I've been followed by this Bangladeshi…he's really make me scared……
Trying to online after I arrive home...but my eyeball cant accept anything as my mind ask my body to rest…the only nite I was online was on Wednesday….but I dunno what am I doing…can u imagine…on Thursday…I'm (supposedly) presented my group's topic…on Marriage and divorce in the world… I dunno whether to call it as luck or no…my group didn't be called…erm…I dunno whether to be grateful or not…..

After Anthro class…me n double J (Jason n June) taking our regular T63 RapidKL bus back to KL sentral….in the bus…so many thing I heard from both of them…..what can I say…..SHIT HAPPEN……

Yesterday Mr. Ken quite disappointed with the other group who already did their presentation( as I can see from his face)…one of my classmate was saying sum thing…but I dun object what he said or support it…I wanna be in neutral zone…

The countdown starts now….27 hours.....aiyaaaiiiyayayayaiiiiii….


GOT TO chow………Tata all


Thanx 4 ur time.....




Adios....




-out-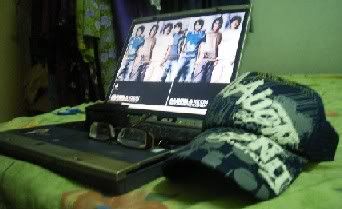 -maxx-
hasil muntahan pikiran maxx @ 2:00 PM