(UNDER CONSTRUCTION2010)Meh chat kat sini...korang nak tanya aper2 pun boleh...akan cuba di jawab..InsyaAllah..(UNDER CONSTRUCTION2010)
Currently Favorite Music Video
m.a.s.a. s.p.o.n.s.o.r. p.e.s.a.n.a.n.
Add Me At....
Bloggers "Family Affairs"
Bloggers "Kenalan kolej"..
Bloggers "TABIK HORMAT"
Bloggers "AkmaFC & Jiwangans"..
Bloggers "Nubies"
Tertinggal Komuter??!?!
Tertinggal ERL????
2 days-to be with Aqish
Wednesday, August 22, 2007
i want to spend my two-day free afternoon class with my fren Aqish....

dia ader multiple sclerosis...pd sesapa yg tau..bagus laa..pada yg tak tau ape tu Multiple sclerosis....sila refer kt link yg di beri.

Wiki:

Multiple Sclerosis


Berita Harian:

Diagnosis: Sclerosis berbilang jejas saraf otak



-credits to Wikipedia and Berita Harian-

klu tak paham lagi...leh pi kt website Mlaysia MS society....tp kene search link sendiri...

pd kengkawan yg kenal Aqish tu....meh laa kita sama2 jenguk dia....klu nk alamat...sila mintak kt Aku or kt Herina or As.....diorg ader........

-Maxx-
hasil muntahan pikiran maxx @ 10:48 AM

Harry Potter and me.....
Wednesday, August 15, 2007
Hi ya'all...

My weekend not happy-go-lucky as my dad tetiba lak sakit...erm....and ia bersambung terus kt diriku ini yg sememangnye slalu je kene penyakit (xkira sengaja cari atau xmencari).... So, one of my best frenz in college buat birthday party kt umah dia....aper2 pun..HAPPY BIRTHDAY FREN!

Sepanjang duduk kat umah ni....I was doing my research (research gitu.....jgn main2) psl HARRY POTTER....sebab mmg nk paham bebetul sapa harry ni sebnanye...sbb sy xde peluang nk baca buku dia dr awal (HP1-HP4)....cuma HP 5 smpi HP 7 je dapat baca....

Website yg paling banyak bgtau info psl Harry ni adalah.....WIKIPEDIA....kebanyakan citer, plot citer....etc..etc....and citer paling panas sekali....adalah psl my

favourite

couple in HP....suke giler... ( wanna hint?? go find it on links below)

laaa check link kat bawah ni OK...harap dapat bg info sikit pasal HP ni...and some spoiler utk their upcoming films....

Wiki: Harry Potter
Wiki:

Ron

Weasley
Wiki:

Hermione

Granger
Wiki: Lord Voldermort a.k.a The Dark Lord
Wiki: The Death Eater
Wiki: Dumbledore's Army (D.A)
imBD: Harry Potter and The Half Blood Prince (Film)
Wiki: Harry Potter and The Deathly Hollows (Film)



(

p.s: If I were u, I won't read the synopsis of the last 2 films..but hey...I don't give a damn about it..hahahaha

)



-credits to Wikipedia and IMBD-

Ader gak dengar2 citer psl Naomi Watts akan jd Narcissa Malfoy, and Christian Coulson akan kembali sbg teenage Tom M. Riddle utk this upcoming film....namun masih samar2....Yang pasti, Cho Chang berkemungkinan TIDAK KEMBALI...YAHOOOOOO!! klu kembali pun...xde masa si Harry nk layan..kah3x....

Aper2 pun...lebih kurang 3 tahun lagi....Siri Harry Potter akan habis. Tinggal Kenangan je laaa...hehe




-out-


-Adios Amigos-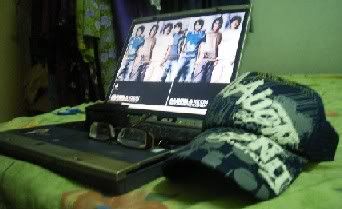 -maxx-
hasil muntahan pikiran maxx @ 1:42 PM

Me wit 25hrs b4 Birthtime....
Wednesday, August 08, 2007
Hi All......2day nk citer laaa sket hadiah yg diberi oleh family n kengkawan....kire advance birthday presents.....

I always wanted a new phone...ye laaa.....bukan sbb jeles tgk henpon org lain

(ye laa tu xjeles)

..tapi nk laa merasa pegang tepon lain..hahaha....tapi...nk jd citer....i lost my phone a month b4 my b-day...so my parents decided to buy me a handphone.....biasa2 je...asal leh call, SMS etc...etc.....also...diorg belikan rantai Jed dr Beijing...dah pakai 2,3 kali...tp rasa mcm tak selesa pki...bukan gatal..tp nnt kang menjadi perhatian...kah3x....

my sis belikan my favourite book....nak tau satu citer tak?? when i was in form 3...saya penah minta mak belikan set buku tu..tapi..malang mmg selalunye jarang berbau...langsung tak dapat....and..nasib baik, one of my best fren bagi pinjam buku HP & OoTP...dan masa tu rasa mcm kat kayangan je......after i finish my reading... I continued baca HP& Half-Blood Prince....my sis plak..belikan

HP & T

he D

eathly Hallows

...Cool rite?!??!

My bro jgn citer laa......asik pggl diriku

comel

...bengang tau...klu sapa tau citer sbalik comel ni...sure gelak beso.....

my best fren since skolah rendah plan nk ajak pi sumwhere kat2 sini.....i told her...no hal....cuma xsure jalan je...mampus laa klu sesat....

Last weekend...ada majlis makan2 kt KL....eventho sy bgtau birthday sy bulan ogos...

(xmalu..promote birthday sendiri)

..sy still consider bende tu as majlis jumpa kawan2 je....ader laa time hadiah.....tp sampai laa ni..xbukak lagi..bukan aper..nnt spirit 9 ogos ilang.....

NEway...tunggu posting utk esok OK

So Long....til we meet next time....

-Maxx-

p.s: Happy Birthday to

Ahmad Iz-Zahin, Addy,

JC Chasez,

Bee, Mr FF.Chong, Wu Jian Hao, Elaine Tan, Melissa Ho, Mikael Silvestre, A-So, Izzati, Yana

..etc...etc...
hasil muntahan pikiran maxx @ 11:36 AM

Counting days to.......
Saturday, August 04, 2007
¡MI CUMPLEAÑOS!



NEway...thanx to sum of my frenz (u noe who u are) yg sanggup meluangkan masa utk melepak sama2 ngan sy.....wlpn perancangan asal adalah utk perkara lain...sy AMAT berbesar hati.....Smoga Allah saja yg membalas jasanye....

insyALLAH....klu sy ader duit...sy byr blk utang2 yg sy buat...TIMA KASIH BYK2!


pd

Kimi

n

Houdini

pun...Thanx 4 early wish....pd

Kak Zue

and kak N

or

a..thanx utk wish anda gak......hehehehe

eventhough lama lagi...tapi.....THANK U SO MUCH!




-adios mi amigos-




-maxx-
hasil muntahan pikiran maxx @ 8:08 PM